Safety
Fair Wind Air Charter is an FAA approved Air Carrier (Cert. # FOMA973D) certified in full compliance with federal regulators. We have been operating without incident or accident since we opened our doors in 1983.
Our Safety is attributed to our modern aircraft, highly trained staff, and state-of-the-art safety systems, including Flight Operational Quality Assurance (FOQA) processes usually reserved to major airlines. In addition, our company is routinely audited by independent industry analysts to assure that your customer experience is not only convenient and professional, but furthermore, safe and reliable. Fair Wind takes great pride in the fact that we operate our aircraft to corporate standards and policies that far exceed those of the DOT, FAA and TSA. Fair Wind is approved as Wyvern Wingman carrier, carries the Aviation Research Group (ARG/US) Platinum rating, as well as IS-BAO Level III, all of which are the highest possible in the industry.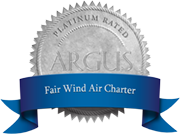 ARG/US is a leading, independent audit organization that continuously reviews and monitors the safety record of any US based charter operator. Subscribers can download a complete safety report and validate charter flights' historical safety standings within seconds. Responding to an industry wide need for objective, non-intrusive, and fact-based safety analysis for part 135 charter operators, ARG/US has developed a new rating system. Fair Wind Air Charter continuously updates its aircraft and crew information within the ARG/US system. Additionally, Fair Wind provides this safety service to any brokered flights for its passengers at no additional charge. Make sure you get what you deserve for your next flight – quality, reliability, safety, and regulatory compliance. ARG/US Platinum status is renewed every 24 months by completion of a 2-day in person audit by professional and experienced aviation industry auditors.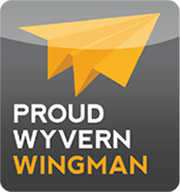 Wyvern is another independent aviation audit firm. The Wyvern Wingman standard puts forth very stringent audit, qualification, and industry best practice standards that require an air carrier's continuous focus and dedication. Fair Wind has attained the Wyvern Wingman rating testifying to our commitment to safety. Wyvern status is renewed every 24 months by completion of a 2-day in person audit by professional and experienced aviation industry auditors.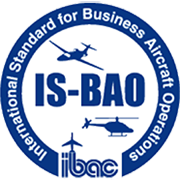 The International Business Aviation Council (IBAC) has developed the International Standard – Business Aircraft Operators (IS-BAO). This standard has been recognized by the Federal Aviation Administration to meet the International Civil Aviation Organization's (ICAO) safety management system requirement. Although not yet required within the United States, any aircraft flying in ICAO territories is now required to maintain an active Safety Management System (SMS). Completion of the IS-BAO audit and registration process is a demanding and daunting task requiring dedication and a sincere commitment to building a corporate structure that promulgates a solid safety effort. Fair Wind completed the IS-BAO Level 3 certification in 2018.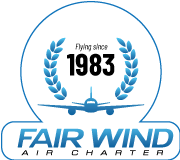 Last, and certainly not least, we are also audited by NetJets, a Berkshire Hathaway Company, Sentient, as well as other fractional card companies in order to provide supplemental lift. Due to our strict safety guidelines, Fair Wind Air Charter is also approved to fly Fortune 100 company executives.

Fair Wind Air Charter proudly supports the Air Charter Safety Foundation (ACSF). The vision of the ACSF is to promote and enable the highest levels of safety in personal and business aviation. This goal will be achieved by:
Promotion and facilitation of risk management programs,
Advocacy and support for the industry adoption of a common audit standard,
Dissemination of safety information and,
Creation of additional programs that advance the goals of the Foundation.
The Air Charter Safety Foundation leads and supports the advancement of the highest safety standards available to allow the business, charter and fractional ownership industry to offer the safest air transportation products in the world and to provide objective information about these standards and services to the public.
Peace of Mind
You are in safe hands when flying with Fair Wind Air Charter!